About
The goal of Lake Effect Gun Dogs is to produce a well-rounded hunting companion. A retriever that truly loves what they do; a dog that is equally at home breaking the ice to retrieve a fat green head, quartering the uplands in search of a long tailed rooster or by your side in front of the fireplace. The foundation of Lake Effect's program is obedience and instilling in your dog a love for learning.
Having grown up always having a dog as part of the family, my mother tells the story of my not needing a walker; I simply used our house dog, Ingrid.
As I grew up, I found that having a dog was a vital part to the success of any hunt. And, a well trained retriever made for a very enjoyable day out. Training dogs started out as a way to increase my hunting success but quickly turned into so much more.
After being introduced to NAHRA (North American Hunting Retriever Association), I learned that being able to compete at the upper level took great teamwork. And, building that teamwork created an indescribable bond with these amazing working dogs. NAHRA produces what I look for; the ultimate all-around hunting dog. I use their standards to judge and train the dogs that I hunt and compete with.
Since 2001, I have been blessed with the opportunity to train and hunt with these dogs on a privately owned game farm/retreat, where I live and work. I have been granted the privilege to use these grounds, and the facilities, to work with dogs and their owners, creating companions with which any family, hunter or hunt test competitor would be proud to call their own.
Over the years, I have had a few favorite dogs, but they all have made and impact on me; whether I owned them or just had the pleasure to train them.
I remember the first time I knew that I could no longer hunt without a retriever. I brought my father out to introduce him to my new found love of waterfowl hunting. I don't know what made me happier, making him jump with unsuspected duck calling, or watching his eyes light up when the mallards dropped in through the tree tops. We were fortunate to collect a few ducks that morning but one got away. It had fallen dead out across open water and into some cattails. After going in over my waders and not coming up with the bird, I decided that I needed to get my first lab. As luck would have it, a friends uncle's dog had just had a litter. I read everything I could get my hands on about picking the right pup. I narrowed it down to two and then Deek picked me.
These tests and the dogs that have been built from them have taken me to places I've never dreamed possible. From Quibec to Arizona and Georgia to Alaska.
Thank you,
Tony Carlo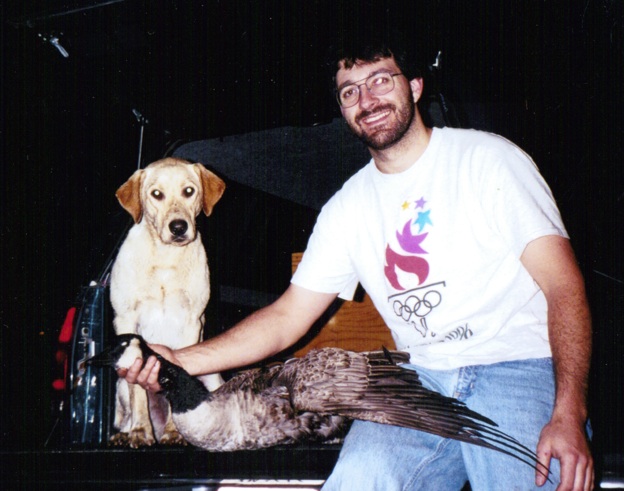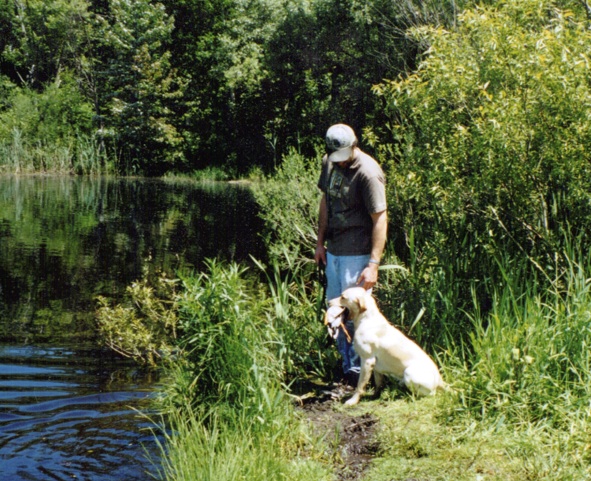 Tony with Ingrid, and Deek